First State Bank Southwest and the Independent Community Bankers of America (ICBA)
encourage customers to plan for their financial future
by establishing and maintaining good credit habits
to create a financial wellness
"Good credit is essential to a strong financial foundation, so it's important to build and maintain responsible credit practices that demonstrate sound money management principles to help you achieve your short and long-term financial goals," said Mark Vis, our President of First State Bank Southwest. "By working with your trusted community banker at First State Bank Southwest to create a budget that reflects your finances and lifestyle, you can better manage your spending and savings behavior to reach your goals and avoid financial setbacks."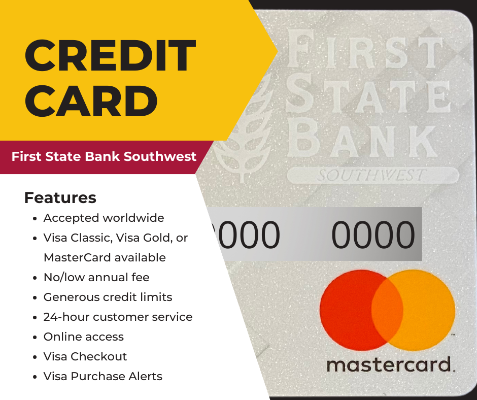 Tips for good credit
Open a checking account at First State Bank Southwest and keep careful track of your balance to help establish a credit history.
Use debit and credit cards for convenience and safety. Be careful not to overspend and avoid missed or late payments, which can damage your credit and hurt your credit score.
Develop a good mix of credit (such as a revolving credit line and an installment loan) to boost your credit score and demonstrate that you can manage different types of credit.
Show stability in the three

to six months before a major purchase. Avoid opening or closing accounts or moving large amounts of money around.

Build an emergency fund equal to at least six months of living expenses. Establishing a financial cushion to help absorb unexpected expenses and avoid penalties and fees for missed or late payments.
Alter your credit focus as you approach different life stages.
Monitor your credit regularly so you can correct any errors and detect potential signs of identity theft. Order a copy of your credit report annually from www.annualcreditreport.com

.
"By establishing good spending and saving habits early, you can retain your financial footing and more quickly recover from temporary financial roadblocks," said ICBA President and CEO Rebeca Romero Rainey. "Reach out to your neighborhood community banker who can offer sound financial advice to help you navigate life's financial milestones and plan for your future."
To find one of First State Bank Southwest's local branches, visit our website tab called locations and ATMs at the bottom of this page.
About First State Bank Southwest
We are truly a community bank and are very proud of that fact. The First State Bank Southwest was chartered in 1903 and now has offices in 
six locations
 to help service our customers in Southwest Minnesota and Southeast South Dakota. At First State Bank Southwest, we offer all current banking services, competitive interest rates, and convenient locations. But our 
people
are the reason we're the best local bank. Because all the best services don't mean anything if you can't trust the person you're working with. We have a team of dedicated local experts committed to helping you succeed. They're great to work with, easy to get ahold of, and above all, people you can 
trust
with your finances.
The people make the difference.
The Independent Community Bankers of America® creates and promotes an environment where community banks flourish. ICBA is dedicated exclusively to representing the interests of the community banking industry and its membership through effective advocacy, best-in-class education, and high-quality products and services.
With nearly 50,000 locations nationwide, community banks constitute roughly 99 percent of all banks, employ nearly 700,000 Americans and are the only physical banking presence in one in three U.S. counties. Holding nearly $5.9 trillion in assets, over $4.9 trillion in deposits, and more than $3.5 trillion in loans to consumers, small businesses and the agricultural community, community banks channel local deposits into the Main Streets and neighborhoods they serve, spurring job creation, fostering innovation and fueling their customers' dreams in communities throughout America. For more information, visit ICBA's website at
www.icba.org
.
---
MEET OUR STAFF
Lisa R Pfeifle
Assistant Vice President / Real Estate Loan Officer
NMLS ID#524963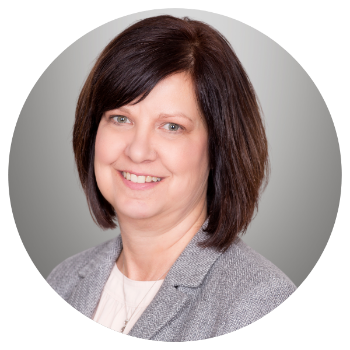 Lisa loves being outside whether it is biking, going for walks, grilling, sitting by a fire, and of course, being with family. She has been listening to more podcasts but the last book she was reading was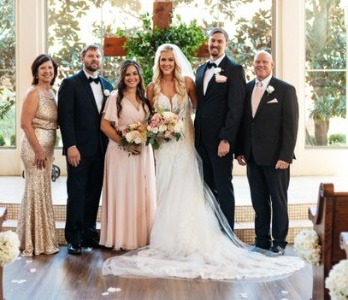 "My Boy Ben" by Minnesota Cross Country Skier David Wheaton. She has been a FSBSW employee for 17 years. Her family includes her husband – Randy, son – Nicholas and his wife Erin, son – Nathan, wife Emma, and expecting baby girl P in June.
Her favorite part of her job is helping first-time homebuyers purchase their 1st home.