Milestone demonstrates a legacy of perseverance and a vision of growth.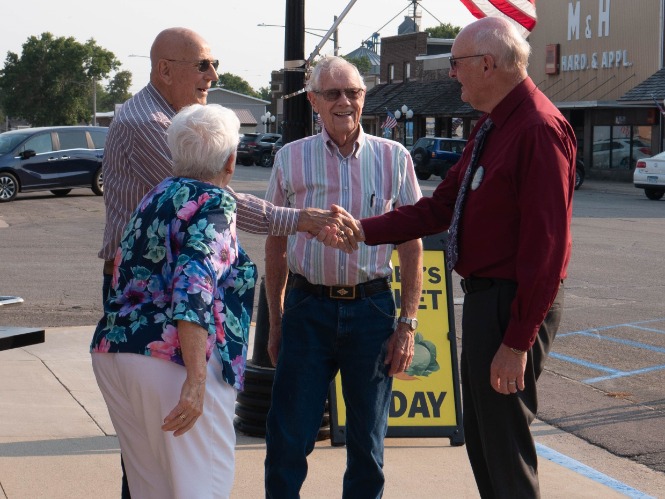 Edgerton, September 7th, 2022—First State Bank Southwest in Edgerton commemorates 20 years since its founding in 2002. While the bank was being built, we had a three-person team working out of a trailer. Now, we have grown into the town with 8 employees and an addition to the original building.
"The highlight of my career was opening and building a bank in my hometown. Edgerton supported us tremendously." Alvin Kooiman Former President/CEO and Past Chairman
In 2008, Brad Bruxvoort was hired to manage the Edgerton office. He is currently Chief Credit Officer and Market President for First State Bank Southwest. Tristin Fliehe and Lisa Pfeifle serve as Loan Officers. Lori Van Essen is one of the original staff members serving as an Administrative Assistant. Other employees at the bank are Trista Fraser, Karen Walhof, Kim VanHofwegan, and Jennifer Sluis.
"Our success is due to our employees past and present. Our employees make the difference in every transaction. Our success is due to the commitment from our customers. We like the other businesses would not
be where we are today. Without the support from all of you."
Brad Bruxvoort Edgerton's Market President and CCO
History from Jill F. in the Edgerton Enterprise.
On July 3rd, 2002, the building permit for a proposed new bank on Main Street in Edgerton was approved by the Edgerton City Council. Alvin Kooiman, President of First State Bank Southwest, came to the council with blueprints for the proposed new branch in Edgerton. The new bank was built on the empty lot at the corner of Maple and Main streets, where the former Bouma's Meat Market had stood.
A groundbreaking ceremony was held on August 16th. Community members came out to see the special event.
Prior to building, banking was done from a 12x44-foot mobile unit that served as a temporary office, which opened on September 3rd, 2002. The tellers were Judy Brummel and Lori Van Essen. Scott Kooiman was the Branch Manager. Greg Raymo was the Commercial Loan Officer.
On Monday, December 23rd, the new bank building opened in Edgerton. New features for customers were a 24-hour ATM located just inside the front entrance, a drive-through on the east side of the bank, and a walk-up window on the south side.
On February 10th, 2003, Bremer Bank announced its agreement to sell Edgerton and Leota branches to First State Bank Southwest.
On June 25th, 2003, the Bremer Bank closed its doors at the corner of Howard and Main Streets. A police officer provided a security escort while the safe contents were transferred to the First State Bank Southwest location one block north.
In 2007, the size of the bank was doubled with an addition to the north. This more than doubled the size of the bank, making room for an employee break room, a larger lobby, an investment office, and an additional office and customer service area.
Edgerton also had two banks back in 1921. At that time, the State Bank of Edgerton was located at the corner where Tally Ho Koffie is now. The Security State Bank was where the Deputy Registrar and Main Street Chiropractic are currently located. Those two banks merged in 1926.
First State Bank Southwest, which has existed for over 100 years, began in Rushmore in 1903. It has branches in Leota, Worthington, Pipestone, and Sioux Falls.
---
MEET OUR STAFF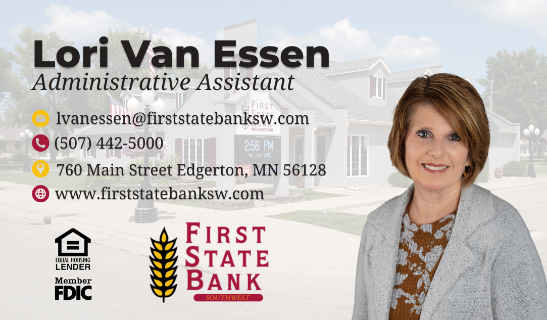 Lori Van Essen
Administrative Assistant
Lori has been our Administrative Assistant for the past 20 years in Edgerton. She and her husband Del have 5 daughters, 5 sons-in-law, and 13 grandchildren.
"Someone should bank with FSBSW because we know our customers, we support our town, and have a great team of employees."
Her favorite part of her job is visiting with the customers.
We celebrated Lori's 20th Anniversary last month. We appreciate all that our employees do for us.
---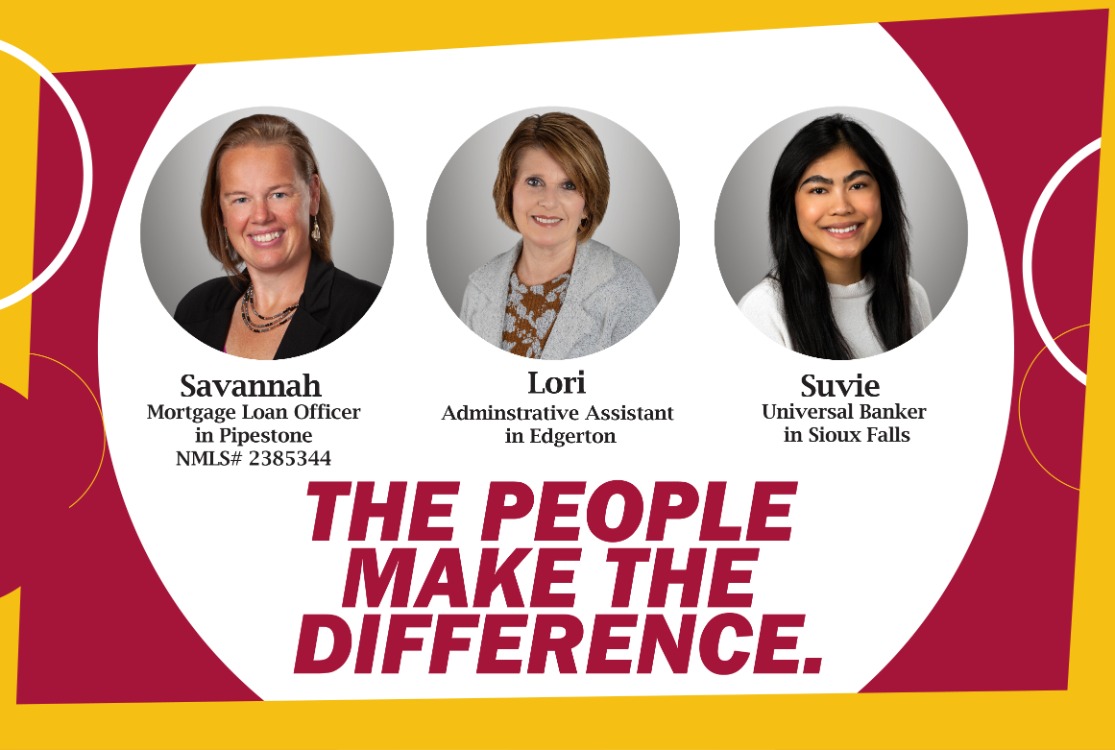 We are truly a community bank and are very proud of that fact. The First State Bank Southwest was chartered in 1903 and now has offices in six locations to help service our customers in Southwest Minnesota and Southeast South Dakota. At First State Bank Southwest, we offer all current banking services, competitive interest rates, and convenient locations. But our people are the reason we're the best local bank. Because all the best services don't mean anything if you can't trust the person you're working with. We have a team of dedicated local experts committed to helping you succeed. They're great to work with, easy to get ahold of, and above all, people you can trust with your finances. The people make the difference.
---

---
Our Communities
Proud to have supported the 1st Pipestone Corn and Soybean Growers Golf Outing and Steak Supper at the Pipestone Country Club. Additionally, we gave away a Milwaukee Impact Driver and Drill for The Shortest Putt Missed on hole number 5! Thank you, area farmers, for your support. 
First State Bank Southwest prides itself on our employees volunteering in our communities. Brad Meester, our Worthington Market President, serves on the Nobles County Extension Committee with Robert Paplow (Nobles County Commissioner) and Joyce Jacobs (Nobles County Auditor Treasure) pictured. At the Nobles County Fair, the trio presented on behalf of the Nobles County Extension board as well as the University of Minnesota Extension, Aaron and Kia Nystrom, the 2022 Nobles County Farm Family of the Year Award. Aaron and Kia Nystrom are the fourth generation of the Nystroms' to live on the original family's homestead. 

Arond and Shaila Peil are the new owners of the Ground Round building at 1290 Ryans Rd, Worthington. Arond said he appreciated Mark Vis's help on this purchase, and Mark made it easy for them. Arond and Shaila plan to renovate the building throughout September and hope to open it as

The Mav Grill

around October 1st. They will continue to operate

Hickory Lodge Bar & Grill

in the current location. They are accepting applications for all positions at the Mav Grill. Please email

themavgrill@gmail.com

or stop by the Hickory to pick up an application.

First State Bank Southwest takes great pride in helping businesses grow and succeed in our communities. Congratulations Arond and Shaila on becoming the new owner of the Mav Grill in Worthington! Thank you for entrusting First State Bank Southwest with your new venture. 

Erin the Kivu Immigration Law PLLC Founder states, "Without Mark Vis, none of this would have been possible."




Kivu Immigration Law PLLC is in Worthington, MN. They are grateful to Forward Worthington and its Ambassadors for the Progress Award they received in August and for their community support.




Our employee Laurie Maras is a part of the Ambassador program.
Coming Soon...


More of Our Two Cent posts