Shop Locally for the Holidays
Are you planning to spread some cheer? Focus on community during the holidays and purchase a one-of-a-kind creation from your local small businesses in Your Town. By doing so, you'll be giving a gift that keeps on giving—local economic prosperity.
Did you know that for every $100 you spend at locally-owned businesses, $48 is returned to the local economy compared to just $14 when you shop at a national chain? Or that the country's 32.5 million small businesses create 62% of net new U.S. jobs annually? So, when you shop locally, you're not only putting your hard-earned dollars to work in your community; you're supporting the engines that fuel our national economy.
And locally sourced goods and services like those found in Your Town are often crafted by local artisans. They are exclusive to our region, making for memorable gift-giving during the holidays and beyond.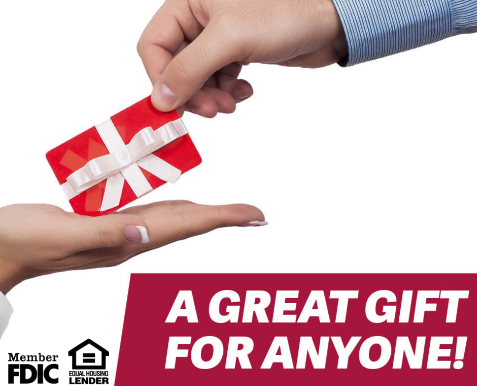 If you prefer your gifts without a shiny bow, gift an "experience" to pick up a meal from the local family-run restaurant, host an intimate party with few friends and family, or head over to your closest First State Bank Southwest location to give them a
Visa Gift Card
. These memory makers are a great way to stay connected as we adjust to the new normal and continue to support small businesses and help sustain the local economy.
Please post a picture or video of your favorite locally sourced product and share it on social media as inspiration for others.
---
MEET OUR STAFF

Meet Dana Oberloh, our Ag Loan officer in Worthington since 2019.
My family is my wife Amy, Our daughter Taya, sons Dustin (Cassie) and Jonah (Heather), and our grandson Hudson (2 ½). Our family enjoys watching hockey, especially the University of North Dakota Fighting Sioux. We also like watching the MN Wild and the MN Vikings.  
What is your favorite part of your job? Meeting new customers and seeing them succeed in business ventures that FSBSW has been involved in.
How do you save money? Be persistent in putting money into a savings account each pay period. Create a budget for all your expenses, so you know where you sit at month's end. Do not allow my wife to go to Sioux Falls.  
Why should someone bank at FSBSW? Our bank cares about our clients, and we have excellent customer service. We also support the community in many ways and want to see Worthington as a destination people want to come to.  
Describe your last 10 years – Very fulfilling and busy. We moved to a new home both Amy and I liked. I started my new job at FSBSW as an Ag Loan Officer in June of 2019. Our boys graduated from college, started their careers and married. We helped both moves several times from apartments to places they now call their home. In April 2020 we welcomed our only grandchild, Hudson (Jonah & Heather), into the Oberloh Family. Taya, our 18-year-old daughter is involved in tennis, dance, orchestra, and band. She plans to attend Concordia College next year.   We have taken many family vacations from trips up north, trips out east, down south, out west, and even the Mediterranean. It seems as if some weeks and months are crazy busy, but then there is always that downtime you can relax and start planning our next family adventure. 
---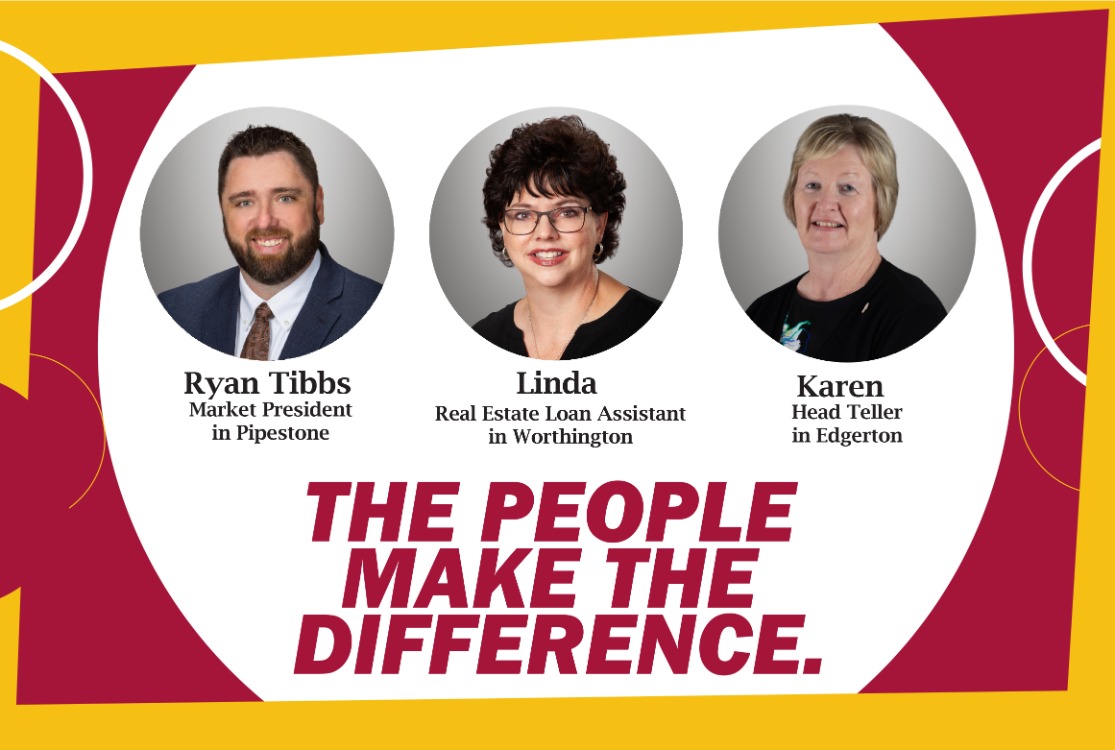 We are truly a community bank and are very proud of that fact. The First State Bank Southwest was chartered in 1903 and now has offices in six locations to help service our customers in Southwest Minnesota and Southeast South Dakota. At First State Bank Southwest, we offer all current banking services, competitive interest rates, and convenient locations. But our people are the reason we're the best local bank. Because all the best services don't mean anything if you can't trust the person you're working with. We have a team of dedicated local experts committed to helping you succeed. They're great to work with, easy to get ahold of, and above all, people you can trust with your finances. The people make the difference.
---
Our Communities
SDSU Career Fair

Have you ever thought about owning a bank? Click Here

Edgerton's Fall Festival

Our Edgerton Branch created a Minion-themed Light for the fall decorating contest hosted by the Edgerton Chamber of Commerce! 

Pipestone Fallpalooza

Our Pipestone Branch decorated our entryway to be

Fall-tastic! The contest is hosted by the Pipestone Area Chamber of Commerce.

Pipestone County Dairy Princess

We handed out ice cream treats to our drive-through customers in our Pipestone Branch!
Mortgage Conference

Our mortgage loan officers had the opportunity to motivate, collaborate, and innovate at the #fhlbmortgageconference 

BankIn Marketing Network
| Edgerton's Girls Night Out | Pipestone Trunk or Treat |
| --- | --- |
| | |
| Edgerton's Trunk or Treat | Coming Soon... |
| --- | --- |
| | |
More of Our Two Cent posts