Step into 2023
Are you ready for 2023? Well, if you are not, that's okay because we're here to give you some tips! "Need more storage" notification bugging you but never have time to figure it out? Well, now is the time to go through your messages, notes, and photos to delete the unneeded ones. Let's recap on First State Bank Southwest 2022 Memories. First State Bank Southwest on YouTube.

Cleaning
Make a list or schedule to stay ahead of the mess. Sundays, we scrub the bathrooms while the kids are bathing. We're doing a load a day of laundry, cleaning those dishes, and swiping after each meal. All these tasks can be split between your family. Set a 15-minute get as much as you can do. Find a schedule that works for you.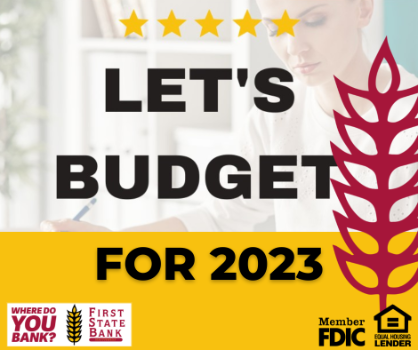 Seriously not as scary as you think. Look at it as knowing when and
 what you're spending your money on without worrying about over-drafting or going into debt. Grab a notepad or follow this link to a
spreadsheet
to manage your income. Write down expenses you had last month that are essential. Some examples are electricity, water, gas, and
Mortgage
payment. You should head to
FSBSW News: Budget
if you want more of a step-by-step process.
Setting Goals

Let's prepare your goals for success.  Tell your family, friends, coworkers, and/or social media about your goals.
"I plan to go to the gym every morning at 5 AM. I will lay out my clothes, shoes, earbuds, and water the night before. Next, I can prepare my work out on paper, using the notes app, saved videos, bookmark a YouTube video, or go to a class. Finally, I can prepare by charging my phone across the room, so I get out of bed in the morning. Also, I'll put my apple watch on the charger the night before."
"I am always rushing to work. I can change that by picking out my outfit, ensuring my lunch is in the go-to containers, putting food in my dog's bowl the night before."
 You can choose one or all options; write, type, and/ or record your dreams. Put them in a place you can see daily to be reminded of them. Our Marketing Specialist, Abi, makes a reminder on her phone to see if she has accomplished her daily goals.
Ask yourself these questions How do you accomplish your goals? What gets you excited to achieve a goal you have? Buying yourself a gift, eating out, or taking a vacation? Reward yourself after completing the goal. "Each week, I arrive to work on time. I will reward myself with a trip to Bora Bora."
2023 Habits
Cooking with enjoyment
Putting $200 into an Account with interest each month!

10 pages of reading every day

30 mins of exercise 

Sleeping 8 hours a night

Checking your First State Bank Southwest Accounts daily with our free online or mobile banking!
---
MEET OUR STAFF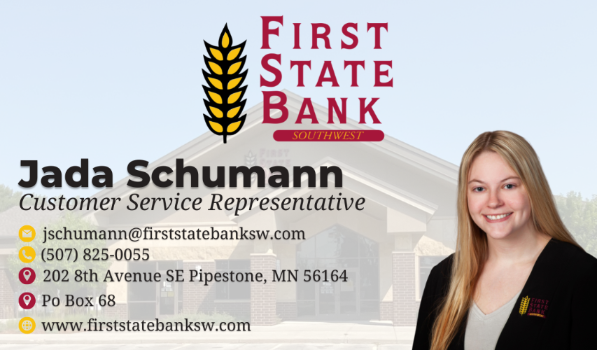 Meet Jada Schumann, our Customer Service Representative in Pipestone.
My parents are Cory and Shari Schumann. I have two older brothers Austin and Trevor. Austin has three daughters which makes me an aunt. I have a Guinea pig named Squirt; she likes to flip over her food dish if she doesn't get enough attention. She's the favorite of the family. I enjoy going to concerts. By concerts I mean country concerts. I like to hang out with friends, read, and work out in my free time.
---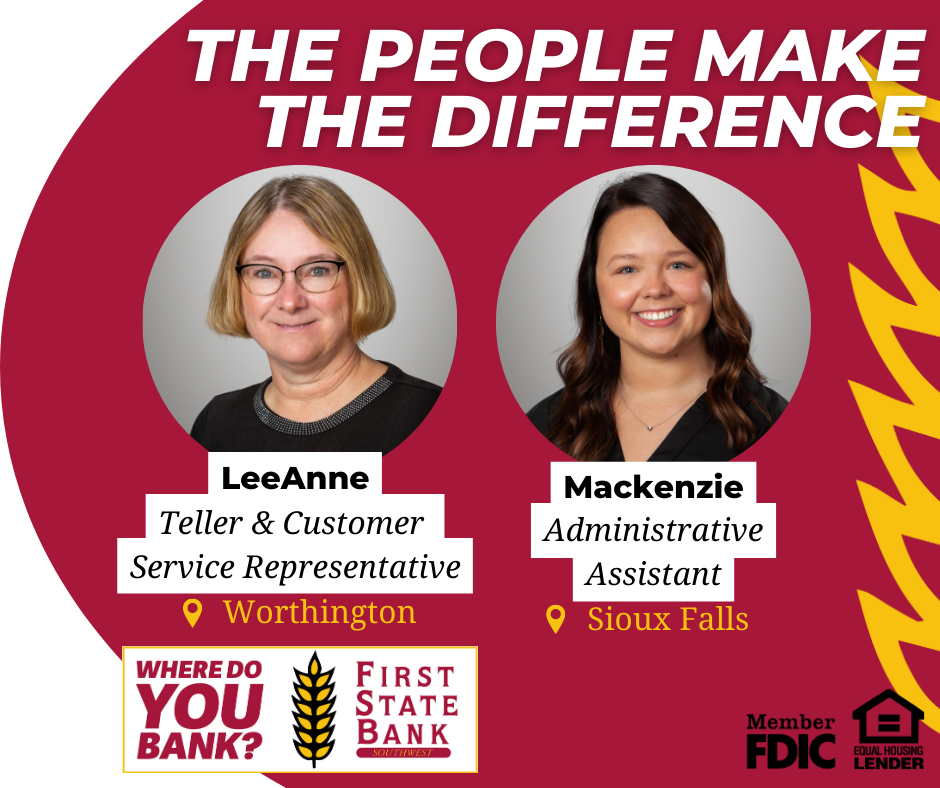 We are truly a community bank and are very proud of that fact. The First State Bank Southwest was chartered in 1903 and now has offices in six locations to help serve our customers in Southwest Minnesota and Southeast South Dakota. At First State Bank Southwest, we offer all current banking services, competitive interest rates, and convenient locations. But our people are the reason we're the best local bank. Because all the best services don't mean anything if you can't trust the person you're working with. We have a team of dedicated local experts committed to helping you succeed. They're great to work with, easy to get ahold of, and above all, people you can trust with your finances. The people make the difference.
---
Our Communities
| Rushmore Open House | Leota Open House |
| --- | --- |
| Sioux Falls Open House | Edgerton Open House  |
| Pipestone Open House | Worthington Open House |
| Remembrance Tree | Toys for Tots Donation |


More of Our Two Cent posts