Celebrating Small Businesses
Small businesses are everywhere. We depend on them for everything, from our morning coffee and keeping our cars running to creating the fashion we wear. We hope you'll join us in supporting the small businesses we love!
First State Bank Southwest and the Independent Community Bankers of America (ICBA) encourage Americans to reinvest in their local community by shopping locally. Small businesses have generated 12.9 million net new jobs over the past 25 years, accounting for two out of every three jobs added to the economy.
"First State Bank Southwest understands the unique needs of small businesses and the importance of quick access to financial resources as they expand and evolve to meet the needs of the communities they serve," said Mark Vis, President. "We're invested in the success of our local small businesses and stand ready and willing to help because we know when small businesses flourish, everyone prospers."
Small businesses comprise 99.9 percent of all firms and account for 44 percent of U.S. economic activity. When it comes to their financing needs, they most often turn to community banks, which fund more than 60 percent of all small business loans under $1 million. In fact, small businesses consistently rank community banks as their lender of choice, according to a series of studies from the Federal Reserve Banks.
"ICBA represents the nation's community banks, which channel their loans to the neighborhoods where their depositors live and work—helping local businesses and communities thrive," ICBA President and CEO Rebeca Romero Rainey said. "Their relationship banking philosophy is ingrained in how they conduct business and is pivotal to ensuring that businesses and families have access to capital to support their funding needs and financial aspirations."
---
MEET OUR STAFF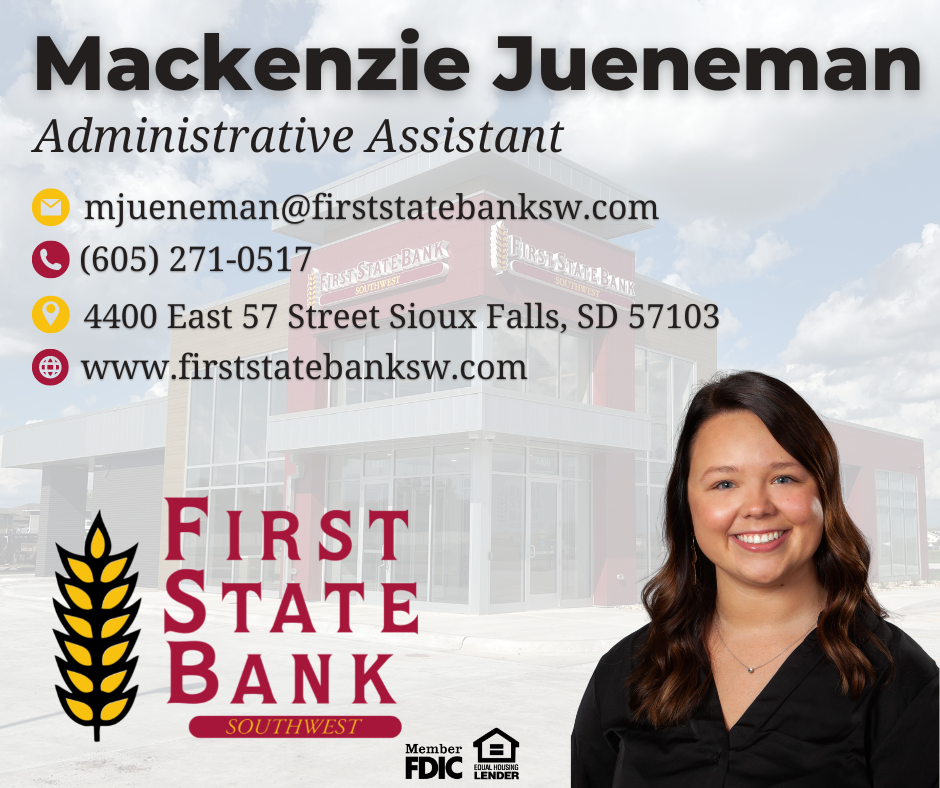 Meet

Mackenzie Jueneman

, our Administrative Assistant

in Sioux Falls.
Her favorite part of her job is the people she works with and meeting all our customers. She's grateful to see existing customers and catch up with them!

How does Mackenzie save money? She sets a specific amount aside each month to go into her savings!

Why should someone bank at First State Bank Southwest? We are always happy to go the extra mile for you.
Her favorite hobbies are
redoing furniture, walking with Ollie, and finding a good book. In the winter, she watches her favorite show on Netflix!
Summer, you can find her outside!

Her favorite books are by Colleen Hoover!
---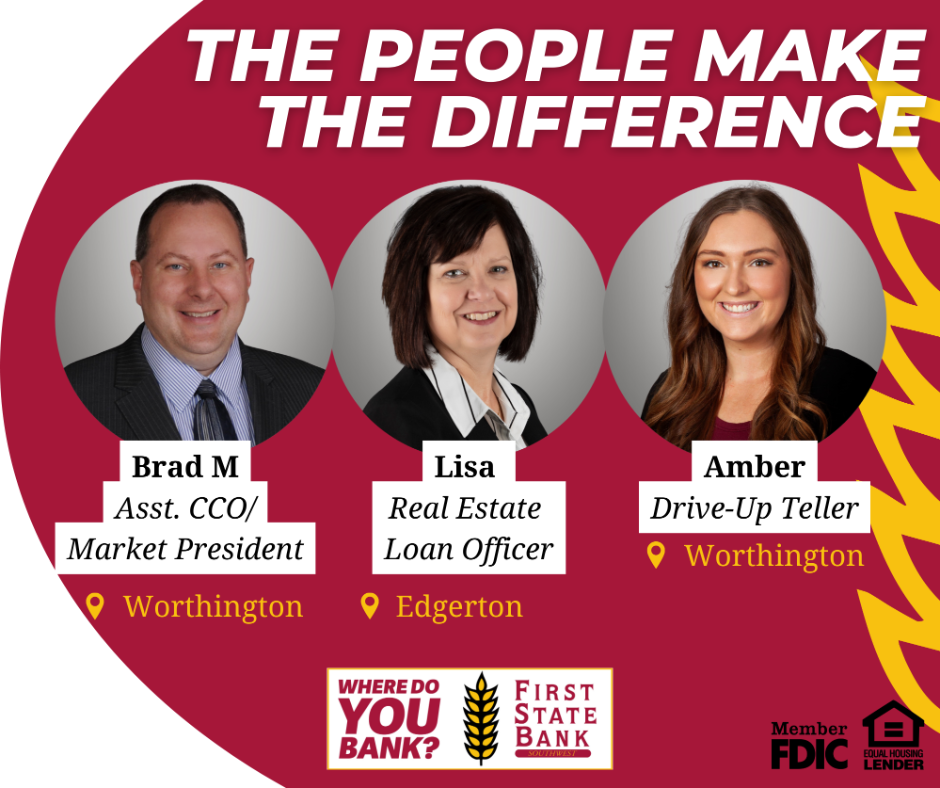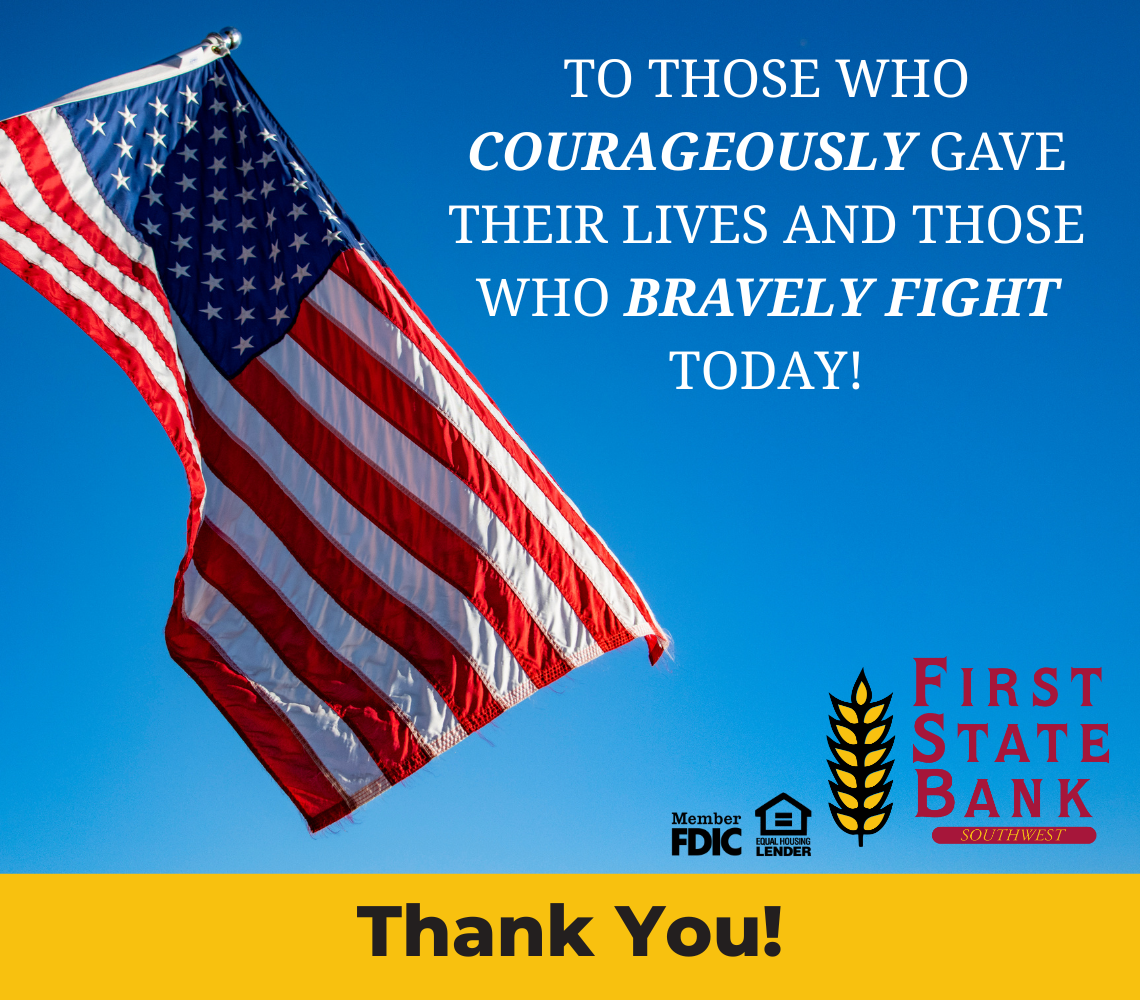 ---
Our Communities
At Edgerton's Chamber Mixer, we selected Lloyd Zwart as this year's Edgerton

Community Pride Award recipient. Read More at Edgerton Chamber Mixer.

We celebrated our Pipestone Area Chamber After Hours Event and Community Pride Award Ceremony by nominating Luann Bosma. Read more at Pipestone Area Chamber After Hours Event.

Our organization celebrates Community Banking Month by hosting a Chamber Membership Mixer and naming Sherry Benton as our Community Pride Award recipient. Read more at Worthington Membership Mixer.

We enjoyed doing our Cash Mob and treating the employees to delicious treats at El Rinconcito in Downtown Worthington!

The Banquet of Sioux Falls, SD serves many individuals throughout the day and relies

on volunteers to prepare and serve the meals.

Adam, Laurie, and Ariana have been teaching the JBS Pork Plant employees about

banking and insurance products.
For more First State Bank Southwest community events throughout
April, check out our Facebook page HERE!
More FSBSW News